Hey there people and Happy Tuesday to you! I am so excited today to continue my Secrets of Etsy Success series on ACLC.
In this monthly series I will be interviewing some fabulous Etsy store owners and picking their brains about how they made a success of their small business. The aim with this series is twofold: 1. To bring some of their lovely items to your attention and 2. To inspire you in your own Etsy Success Story.
I have been inspired by reading some of the pearls of wisdom in these posts and I very much hope you will be too. So, have you got yourself a notebook and pencil? Then let the learning commence!
This month I am featuring the lovely Amalia from The Wish Forest.
Tell us a little something about your stores and what you sell.
My shop is called The Wish Forest, and it's a special place where I sell my work. You can find a selection of my original works, fine art prints, ACEOs and one of a kind handcrafted art.
What made you decide to start your store?
After I began writing my blog in 2009, I started to receive messages asking if I had an online shop where people could purchase my art. So The Wish Forest was born not long after that.
Where do you get your inspiration from for your products?
My work is inspired by so many things from the past and present, but I think childhood memories and whimsical stories are the ones I keep coming back to. The art you see available in my shop are just some of the work I've done over the years that I think reflect myself and my ideas most of all.
What is your definition of success? Did/do you have a set number of sales/items listed that you aimed/are aiming for?
I think the ultimate definition of success is when you reach a certain stage in your life when your career and personal life are closely aligned and in perfect harmony with each other. It's when you feel content that what you do makes you whole as a person no matter what and after this, I believe that financial success will eventually follow.
If you have achieved your definition of success, how long did it take you to get there?
I'd like to say that I'm still getting there? After all, it's human nature to seek balance and perfection. It takes a lot of work to stay true to your own choices in life, but I think that I'm getting much closer each day.
J
What would be your top tips for:
Create a "personality" for your brand that represents yourself the best way you possibly can. I always believe that doing things within the same red line and following your heart would automatically create the right portrait of yourself and your products.
Networking is without a doubt, crucial. I don't believe in creating a network just for the sake of gaining sales. Most of the people I've met through online networking have become more than just mere acquaintances. Through this, I have gained valuable friendships, which in many cases has helped me in creating a solid support system for my career in general.
You definitely need to be active to encourage any kind of positive growth. Sometimes the things you do won't always result in sales, but there are things you could do to help create a strong foundation for your business. In my case, I try to stay creative in producing work for my shop and in carrying out my marketing plans.
·
Keeping your customers loyal
I think if you stay honest, fair and professional at all times, your customer will keep coming back to you.
·
Anything else you have found invaluable
Most of all, try to stay as creative, flexible and professional in whatever you do. Never be afraid to stay open and generous, because the more you give, the more you will get back in return.
J
Pick an item to feature from your store – it could be your favourite, your newest or a best seller. What do you think is so special about that item? Sell it to us!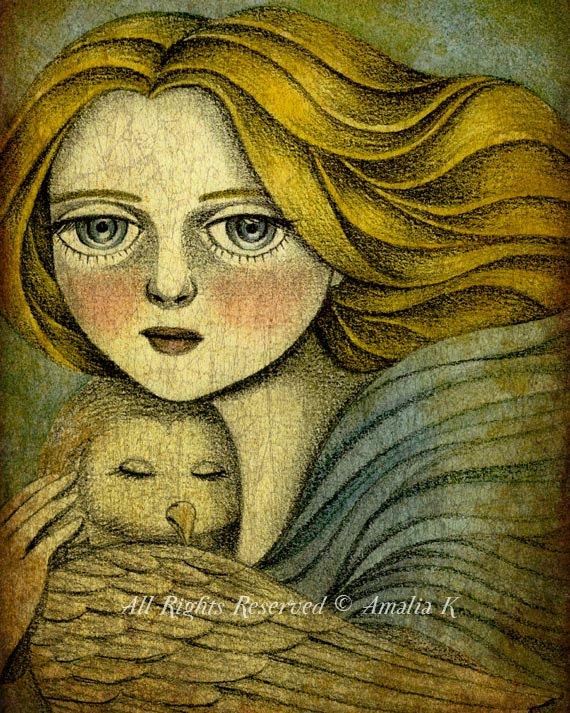 I think that this piece of art speaks to many people because it portrays true emotions and was executed well aesthetically. I created this during a time when my life was at a very vulnerable stage, and I believe that its "honesty" is the one important thing that draws people to it.
Thanks so much Amalia for taking the time to answer my questions and give us all a peek into your process and your store. I have long been a fan of Amalia's work and I am very happy to have her featured her on ACLC :)
If you'd like to be featured in my Secrets of Success series then please get in touch at sarahevanswriting(at)gmail(dot)com
Have a great day people!